Nets or Raptors? Ten Reasons the Heat Can't Wait to Destroy Each Team In Round Two
Now that the Miami Heat have punched their ticket to the Eastern Conference Semi-Finals, the team and its fans can begin to look ahead to the next challenge. The Heat next face the winner of the Toronto Raptors-Brooklyn Nets series, which is tied 2-2.
While the Raptors are the higher seed, and on paper the team you would normally least like to face, the Nets swept the regular season series versus the Miami Heat 4-0. At a loss for which team to cheer for as the Heat's next opponent? Let's guide you through the pros and cons:
Five Reasons The Heat Want to Destroy The Nets
1. Ending Paul Pierce
The Miami Heat must be the ones to end Paul Pierce's face, because tradition. Imagine world hunger, childhood obesity, and every student loan debt collector ever inside a volleyball, that's Paul Pierce's face. The Miami Heat need to punt that volleyball into Biscayne Bay and watch it float away like Wilson.
2. Ray Allen's Revenge
Kevin Garnett disrespects the Jesus, and nobody fucks with the Jesus. Besides a million other perfectly valid reasons for Heat fan wanting to see the Heat beat Kevin Garnett, sticking it in him because he's mad salty with Ray Allen is perhaps my favorite. Garnett is like a jaded ex-girlfriend. After Allen left Boston to sign with Miami, Garnett said he lost Allen's phone number, because LOYALTY! Just a few months later Garnett approved a trade to the Brooklyn Nets, because THE CELTICS STINK! Glass houses bro.
3. The league's shadiest owner
Besides looking like a guy Liam Neeson has to kill on a boat to get his daughter back, Mikhail Prokhorov is of questionable war tactics, and I don't trust him. Amazingly this off-season Andrei Kirilenko just happened to decide to void his $10 million dollar option with Minnesota, then sign for seven million less with the Nets, I call shenanigans. I'm guessing there is a yacht somewhere in the Kara Sea named "AK-47".
The real question of the season is: When will Jason Kidd wear a tie?

— Jessica (@CurlsOnGirls) April 26, 2014
4. Jason Kidd payback
The Heat still owe Jason Kidd revenge from his Dallas days, and he won't wear a tie, so he must be eliminated. In case you forgot, Jason Kidd once played basketball, and the Miami Heat owe him one for the 2010 Finals defeat. Seriously though, a Jason Kidd coached team swept the Heat this season, that alone calls for some revenge.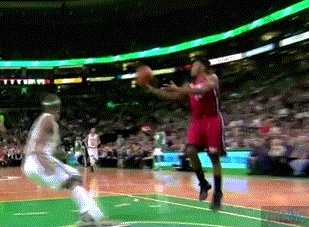 5. The ghost of Jason Terry
Jason Terry isn't on the Nets anymore, I just wanted to include his death gif here. Terry was traded mid-season to the Kings but never played, because he's a corpse, and dead people can't play basketball.
<!­­-- YieldMo Tag­­-->