Heat vs. Nets: Five Key Questions for the Eastern Conference Semifinals
Now things start to get interesting. The Bobcats series was cute and all, with some mild excitement and dramatic moments here and there, but now is when things get super-really real. Tonight in Miami, the Heat faces the Brooklyn Nets, a team that swept the regular-season series in game one of the Eastern Conference semis.
The two teams have zero rivalry, especially considering the Nets moved to a new city this year, but somehow a good amount of hate was created in that limited time. That makes for what should be terrific entertainment.
For the Heat to step over the Brooklyn Nets on its way to a three-peat, a few questions must be answered.
1. Just how annoying will Paul Pierce be?
Paul Pierce was not good this season. In fact, it was statistically his worst season as a pro. So, of course, he averaged 21.3 points and shot 55.3 percent from the field in four games versus Miami, because of course he did. Paul Pierce has gone from a guy whom teams feared this time of year, to a player whom people best describe as "having old-man YMCA game." The best way for the Heat to avoid getting beaten by an old man from the YMCA is to make sure the game isn't close enough for him to burn them at the end.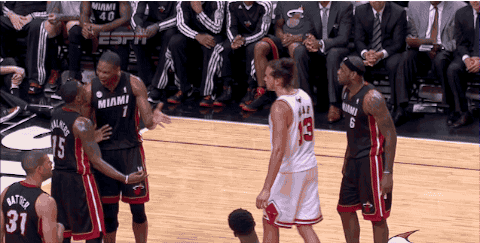 2. Mario or Wario?
For all the crap Mario Chalmers gets from the fans, his teammates, his family, and Obama, he remains a very important piece of the Heat's attempt at a three-peat. Chalmers matches up against Deron Williams in this series and needs to perform well. Any Heat fan will tell you Chalmers is the most frustrating Miami Heat player of the past decade -- maybe ever. Good Mario Chalmers more often than not will go a long way to support the Big Three and help the Heat end the Nets season and probably Kevin Garnett's career. That would be cool.
<!­­-- YieldMo Tag­­-->